Knowledge and Information
Publications and links to a wealth of seafaring related resources
Port Information
These leaflets, developed by MNWB contain maps and contact details for ship visits, medical services, port transport links etc. Covering over 40 ports around the UK coastline and Gibraltar.
Publications
In-depth and informative downloadable PDF guides and reports produced by MNWB and our partners on a wide range of seafaring related topics.
Useful Links
A list of curated links to recommended sites in the following key areas: Careers & Training, Welfare, Maritime Organisations, Safety, and Trade Unions & Labour Organisations.
Resources for non-UK Seafarers & Fishers
Within the UK
If you are an International Seafarer looking for help within the UK select this option
Outside the UK
If you are an International Seafarer looking for help outside the UK select this option
Improving safety and welfare for commercial fishermen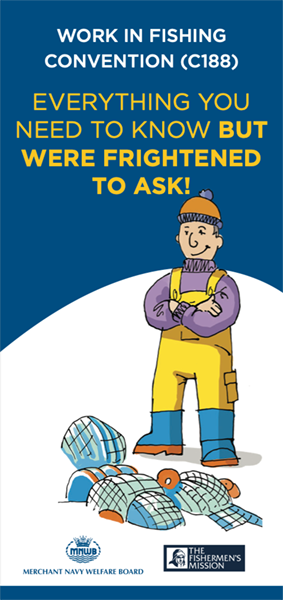 Work In Fishing Convention (C188)

About the guide
This easy-to-use guide provides a summary of
the key elements of the UK legislation on the International Convention on Work in Fishing (C188).
The guide has been produced by Merchant Navy Welfare Board (MNWB) in consultation with the Fishermen's Mission, Maritime and Coastguard Agency (MCA), Nautilus International and the Fishing Industry Safety Group (FISG). Its aim is to inform and assist all those with an interest in commercial fishing, from vessel owners and skippers to crew from all nations and those in the maritime charitable sector who may be unfamiliar with fishing, to understand the legal welfare standards applicable to fishing vessels.
For more information on how to comply with ILO C188 please visit the home and dry commercial fishing safety campaign website www.homeanddry.uk
Bereavement Resources
Funeral Advice & Costs
Please click here to download a copy of "Remembering those left behind – a guide to making wills, considering funeral arrangements and finding other sources of help".
Please click here to download details of the state funded Bereavement Payment and Funeral Payment.
Seafarer Support: 0800 121 4765
Red Ensign Coffin Drape (Red Duster)
The Red Ensign (or "Red Duster" as it is occasionally known) is a flag that originated in the early 17th century as a British ensign flown by the Royal Navy and was later adopted specifically by British merchantmen to be flown as the civil ensign of the British merchant fleet.
A funeral is a sad and hard time for those who are parting with their friends, family or loved one. We are able to loan you the Red Ensign flag for you to use to drape over the coffin. We are able to post to yourself or the funeral director, and ask for you to return the flag as soon as possible to us.
We only ask for a small donation to cover the cost of postage.
Contact enquiries@mnwb.org.uk or call 02380 337799