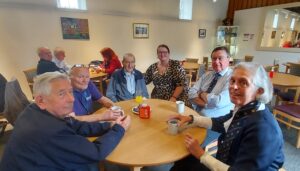 The Merchant Navy Welfare Board's (MNWB) ambitious Ambassador's Programme has completed its first year after a number of successful visits to charities providing welfare support to seafarers and their dependants.
The project launched in February 2022 as a 12-month pilot initiative to shine the light on MNWB as the National Seafarers' Welfare Board and the umbrella organisation for the UK's maritime charities sector.
The Southampton-based charity has four ambassadors, Alèxe Finlay, Jerry Drewitt, Martin Phipps and Neil Atkinson, who spearhead the outreach project.
So far, the ambassadors, who are well-known in the maritime sector, have visited several of the Board's constituent members including Erskine Hospital, Nautilus Welfare Fund, Royal Liverpool Seaman's Orphan Institution, Royal Merchant Navy Education Foundation, Whitby Merchant Seaman's Hospital Houses and most recently Broughton House.
These visits have enabled the ambassadors to showcase and promote the work of the MNWB while listening to the views and concerns of its constituents for improvement to be addressed where required.
While responses to the programme have been positive, they have highlighted the value and need for a dedicated, promotional initiative to raise understanding about the work of MNWB. This could be implemented by extending the programme to external agencies, such as port authorities and shipping companies, to increase stakeholder engagement.
Chief Executive of MNWB Stuart Rivers said:
"The project was initially launched to gain a deeper understanding about the purpose and value of MNWB across the maritime charities sector, the wider maritime community and the general public."
"From the meetings carried out, the feedback has been positive which shows we are heading in the right direction. There have been comments over the Board's role as the new National Seafarers' Welfare Board (NSWB) as well as MNWB membership criteria and benefits, something we will address as our project continues to expand.
"As a leading maritime charity, the more engagement we have with the wider sector the more information will be gathered to ultimately boost welfare provision services."
The Ambassador's Programme is the Board's first in-house volunteer project.
To find out more about our Ambassador Project, or to book a visit, click here