A Day in the Life of MNWB's longest-serving member of staff, Port Welfare Committee Manager Sarah Edward
You could say the sea is in my blood, I come from a seafaring family – my father was at sea for 40 years and my grandfather was torpedoed twice in the First World War having joined the Merchant Navy at 15 years of age. My sister is in the Royal Navy, and I spent four years at sea as a Purser with P&O Australia/Princess Cruises and not forgetting the summer at university I spent hoovering the cinema lounge on the Pride of Cherbourg! I joined the Board as Administrative Assistant in 2009 having had enough of missing out on life events back home.
In the 13 years I have been with the Board, I have held or covered pretty much every role post bar Chief Executive and Deputy Chief Executive. I am now the longest-serving member of staff and there is not much I don't know about the Board.
I took on the role of Port Welfare Committee (PWC) Manager in 2016 when the previous incumbent retired after eight years – I had big shoes to fill. It was a scary step, going from PA to PWC Manager, from the safety of my desk to getting out-and-about, meeting all the people I had only ever dealt with by phone or email. It has certainly been the best job I have had at the Board and the most rewarding.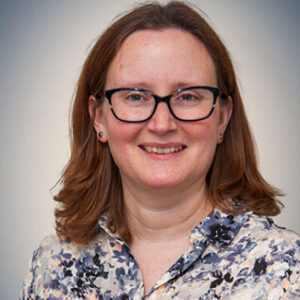 So, what is a PWC? PWCs are maritime partnerships that co-ordinate and promote welfare services for seafarers, at a local level. Membership of the PWCs includes ship owners, agents, voluntary societies, port authorities, local government, MCA, unions etc. PWC meetings are an opportunity for members to network, share information and best practice; all members bring their own local knowledge and understanding of seafarers' welfare issues. As one of two PWC Managers (Susan Atkinson is the other one), my main role is to look after eight of our 16 PWCs covering the UK and Gibraltar including Southern, Milford Haven, South Wales, Gibraltar, North West, Tyne, Tees and Humber. Each PWC meets three times a year, so that is 24 meetings each to arrange. Each round of meetings coincides with the school term. We have just set the dates for 2023 – taking into account bank holidays, half terms and the fact we need to be able to cover each other's meetings (so no clashes allowed!) – it takes quite a bit of planning!
I cannot say every day is different – I have days when I am travelling to a meeting, days at meetings, days spent trying to write up the minutes. There is I guess, you could call it, a rhythm to the meetings; we know what we must do preparation wise, and it is pretty much the same each term (there is a little bit more to do in the Autumn term which is AGM season). We are currently in our quiet period, between terms when we can catch up with filing, sort membership issues, finalise venues and get ahead of ourselves for the new term. Once the first meetings get here, the weeks will just get busier and busier, and Susan and I will be like ships passing in the night!
While a large part of our role is admin related – arranging meetings and all that goes with that, putting together the agenda papers, writing up the minutes etc, we are also information channels – we are the link between the PWCs and the Board and between the PWCs themselves. The PWC networks came into their own during Covid-19 as we were able to keep members updated on what was happening at a national level but were also able to feedback from the PWCs issues members were facing and try and get them resolved. Having a member contact you to ask if you know of someone who can help with a specific issue with a seafarer and be able to say yes, I know who can help is one of the most rewarding aspects of the role. The best part of the job though is getting out to the meetings and catching up with members, you cannot beat an in-person discussion and the networking before/after the meetings is invaluable. While the PWCs adapted well to remote meetings during Covid, it has been great to return to face-to-face meetings. The new term of meetings starts this week with the Southern and after a few weeks in the office, I am itching to get back out on my travels!