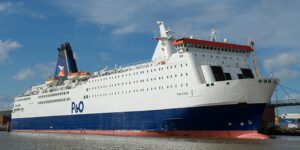 Thousands of seafarers regularly entering UK waters should enjoy better pay protections, as the government continues to boost rights and working conditions while preventing firms from using legal loopholes to pay low wages.
The Seafarers' Wages Act received Royal Assent and is now law.
As a key strand of the government's 9-point plan for seafarers, the new law is designed to protect those working on vessels operating an international service from being paid less than the National Minimum Wage.
The law change will also require authorities to charge operators of vessels who do not provide evidence they're paying their seafarers the equivalent to National Minimum Wage and to refuse harbour access to those who continue to fail to comply.
Responding to this news, Stuart Rivers who is Chief Executive of Southampton-based charity Merchant Navy Welfare Board (MNWB) said:
"This is a landmark moment for the sector."
"Thousands of seafarers will now have extra security in respect to pay and working conditions following a year of turmoil after the mass sackings made by P&O Ferries.
"Ensuring seafarers have the highest level of welfare support is imperative – and seeing this legislation given Royal Assent is a big step to achieving that."
Based in Southampton, the MNWB is the umbrella charity for the UK Merchant Navy and Fishing Fleet which provides support and co-operation to seafarers, fishermen and their dependents. It's also the UK's National Seafarers' Welfare Board after being appointed by the MCA in 2021.