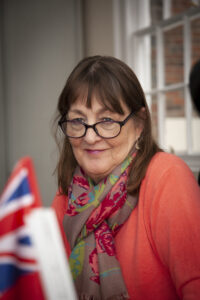 A Day in the Life of Helen van Gass, who is the MNWB's Welfare and Training Manager. Helen's primary focus is to manage the Board's Seafarer Support helpline – a free, confidential referral service for serving and former Merchant Navy, Royal Navy, Royal Marines & Fishing Fleet seafarers and their families in times of need.
Every day is unpredictable in this industry – you never know what you will face.
When I moved to the Welfare section of the MNWB, things were one dimensional. A typical day included answering a few telephone calls, on our dedicated Seafarer Support helpline, printing and posting applications for assistance to caseworker-focused charities and copies to clients. Then, I would go through the files and call clients and caseworkers and file paper, lots of it.
Then, out of nowhere, the pandemic arrived. We had watched it coming closer and started making plans in our heads, rethinking how to work and what we previously thought couldn't be done had to be done. We just had to find a new way to do it.
One day we were in the office, the next day we were at home. But the interesting thing is nothing changed, sure all the paper was gone, case working was by phone and email and meetings were via Zoom, Teams and Skype.
Our Seafarer Support line was now a phone line, a web chat and an email but the needs were still very much the same. There was still one person on the phone who needed my help. I had all the tools at my fingertips, and I was going to do my very best to ensure we made a difference to those most in need.
One case that comes to mind, at the beginning of the pandemic, was a gentleman who had been diagnosed with a life-limiting illness and on discharge from hospital needed changes at home to enable him to cook, get in and out of his bed and chair. As this was at the start, government's enforced rules meant no visits could be made. This provided a huge challenge but, after speaking to the team at SSAFA – the Armed Forces charity, the Soldiers, Sailors, Airmen and Families Association – I arranged and paid for a Zoom occupational therapist assessment. Was that a first? We then found what was recommended by the occupational therapist on the internet asked the charities for the money. SSAFA ordered, paid and arranged for delivery and our clients' needs were met. That's a good day at work – and what keeps bringing me back.
You can visit the Seafarer Support helpline here or you can call 0800 121 4765