The Department for Transport has unveiled the 2023 recipients of the Merchant Navy Medal. Among them is a captain who champions safety in the wake of a life changing accident, and an operational director for a maritime training company recognised for her vigorous advocacy for diversity within the industry.
Merchant Navy Medals have been awarded since 2016 for significant contributions to the maritime industry. Each year, seafarers are nominated by their colleagues, friends and family for the medals – the highest medal of honour within the maritime sector.
This year 11 mariners have been awarded Merchant Navy Medals, including Captain Rattray from Aberdeen and Katy Womersley from Glasgow.
In 2019, Captain Rattray's life took an unexpected turn when a severe injury brought his career as a pilot to an abrupt halt. While boarding the ship via the pilot ladder, his leg was crushed – forcing him to navigate a complex journey of surgeries and healthcare while also adapting to a new desk role within the maritime sector.
Undeterred by these daunting obstacles, Captain Rattray has researched and campaigned for 5 years for improved safety in the marine pilotage sector. This has led the International Maritime Organisation to review the rules governing the safe transfer of maritime pilots to and from vessels. He has also helped to break the stigma of mental health by openly writing about his struggles following the accident.
Katy has championed diversity within the maritime sector by inspiring disadvantaged young people to pursue careers within the sector. Katy has dedicated her entire career to drive forward seafarer training, improve sector diversity, and has managed hundreds of officer cadets. She has supported charities including Sir Thomas Lipton Foundation helping to organise events aimed at offering young individuals children opportunities to gain maritime experience. She also advocates for women within maritime and organised the first Women in Maritime' forums in Scotland alongside Maritime UK.
Maritime Minister Baroness Vere said:
"I am delighted that 11 mariners, including Captain Rattray and Katy Womersley, have been selected to receive this very special honour. Their unwavering dedication, exemplary service and profound contributions have not only shown the UK's maritime industry at its best, but also set an inspiring standard for others to follow.
"Their achievements are a testament to the exceptional talent and commitment present within our maritime sector."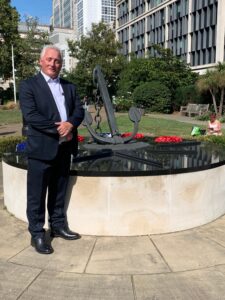 Stuart Rivers, Chief Executive of the Merchant Navy Welfare Board (MNWB) which is the umbrella charity for the UK Merchant Navy and Fishing Fleets, said:
"This award is a fantastic way to recognise our selfless, inspiring, and dedicated seafarers who continuously go the extra mile to keep the economy moving.
"Huge congratulations to this year's recipients for their stellar contributions to the maritime sector.
"It's an honour, within our role as the UK National Seafarers' Welfare Board, to champion, protect and enhance the lives of our hard-working seafarers, fishers and their dependants. Their ongoing devotion and commitment to the industry is truly incredible."
Captain Ewan Rattray, recipient of the Merchant Navy Medal award said:
"The maritime industry has always held a special place in my heart. To be awarded the Merchant Navy Medal is a great honour.
"There is a remarkable team of international pilots and seafarers, tirelessly working behind the scenes to ensure the safety of maritime pilots. To be acknowledged for my contribution to this noble effort is a humbling experience. I personally faced an injury during my career as a maritime pilot, and it sparked a motivation within me to assist and contribute wherever I could."
Katy Womersley, recipient of the Merchant Navy Medal award said:
"It is a great honour to receive this prestigious award. I have been inspired by so many great people in this industry, throughout my career at sea and ashore, who are committed to creating a diverse and inclusive environment. I hope our conversations about diversity will transform into tangible actions and our commitment will pave the way for future generations of seafarers."
The 2023 recipients are:
Dr Alan Stephen Bury; services to maritime education
Philip Mark Peter Cave; services to seafarer welfare
Allan Dickson; services to Merchant Navy careers
John Lloyd; services to maritime education
CPO Martin Etwell; for services to the RFA
Donnacha O'Driscoll services to seafarer welfare and cruise sector pandemic recovery
William John Pearn; services to Marine Pilotage and Safety
Ewan Rattray; services to the safety of marine pilots
Raymond Strachan; services to life saving actions
Katy Womersley; contributions to seafarers training and sector diversity
Charles Woodward; promoting the Merchant Navy and commemorating the sacrifice of seafarers