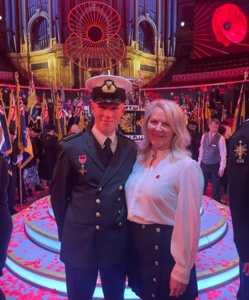 By Ernest Cockram, Cadet Officer in the Merchant Navy
On Saturday 12th November I was fortunate enough to be able to attend this year's Remembrance at the Royal Albert Hall. I was honoured to have this experience representing the Merchant Navy as a Cadet Officer.
Especially at such a poignant time while we remember all those that have served our country, as well as her late Majesty Queen Elizabeth II, the 40th anniversary to the Falklands and those who are serving in the Ukrainian war.
It was all a very surreal experience, and something I will never forget. Particularly singing to his Majesty the King and Senior Royals, as well as the Prime Minister Rishi Sunak.
This was all possible thanks to my sponsors Anglo-Eastern and Maritime Education Foundation (MEF) who very kindly paid for my uniform.
Over the two days of countless rehearsals and learning to march, I met some wonderful people, and was even lucky enough to watch Andrea Bocelli perform live.
I am very proud and appreciative of attending this prestigious event with several thousand watching from their seats and a further 7 million watching at home.
It was a real pleasure to have shared this experience with such a dedicated team of Officers and Cadets, and of course my mother who luckily could attend!