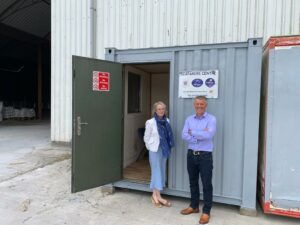 Susan is a Port Welfare Committee (PWC) Manager at the MNWB.
I was, until recently, the newest member of staff at the MNWB starting in June 2022 as PWC Manager replacing Tom Holmer (who in turn had been covering Katherine Lockwood on maternity leave). My merchant navy background is linked to family, as my grandfather and father were both master mariners and my son has recently become a super yacht cadet. Seafaring has always been of interest to me, though I never had the opportunity to serve myself.
Two days into my new role, I had my first meeting in Belfast to meet with Tom (who I had only seen at my interview over Zoom) to run the Northern Ireland PWC meeting. To say I was in at the deep end is no exaggeration! Thankfully, Tom did all the talking at the meeting while I concentrated on taking the minutes and learning how the PWC worked. The MNWB family ensured I was accompanied to all my first eight meetings and, now that I have attended all these and come back full circle to Northern Ireland, I have been let loose to manage the meetings on my own.
The role involves a lot of travelling and research on how to get to different locations as easily and quickly as possible. In Scotland, for example, I was flying into Glasgow but needed to get to Aberdeen. Luckily there were regular trains, and they weren't on strike! My most recent meeting in Northern Ireland meant I needed to get from Belfast to Londonderry, I had to decide whether to hire a car, go by train or bus – I chose the bus and thankfully on my return to Belfast I was offered a lift by all the PWC members who were returning that way. I am enjoying the travelling and seeing parts of the UK I would never have had reason to visit before.
During these first few months, I have come to notice how unique each PWC is, depending on where they are in the country. For example, the South West, Northern Ireland and North & East Scotland include many fishing ports within their area so are concerned with the welfare of fishers and the issues that they face. Whereas the PWCs that cover the larger ports such as Bristol, Felixstowe, Tilbury, and DP World London Gateway, consider the welfare issues of international seafarers who have travelled long distances and been at sea for a long period of time. Most recently, in Central & West Scotland, there have been cruise ships temporarily housing Ukrainian refugees – and it was lovely to be able to provide MNWB funding to enable the committee to host a football match for the welfare of the Ukrainian crew of the ship berthed in Glasgow. This is a great example of the instrumental role PWCs play in bringing people together.
So overall, I am really enjoying the role and meeting the committee members. I am currently halfway through this term's meetings and am now planning the next round again in January 2023.
Find out more about Port Welfare Committees here