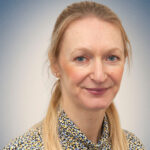 Having worked at the Board for five years, I feel privileged to have seen firsthand the great work of our constituent members to improve the welfare of seafarers, fishermen and their families. Funding received in 2022/23 from the Department for Transport, to be made available to UK maritime charities and organisations, provided an incredible opportunity for the Board to fund a wide range of projects, focusing on people, mental health & wellbeing and skills & diversity.
Following my promotion to Grants & Impact Manager, it has been incredible to learn about the positive impact that the DfT grant funding is having on the maritime charity sector.  I have thoroughly enjoyed my role in the grantmaking process, supporting those who apply for grants from the Board; from submission of grant applications through to grant award and assessing the impact of projects delivered.
The range of projects supported by the DfT funding has been remarkable, such as the great work delivered by the SeaFit programme and other crucial health initiatives, improvements to seafarers' centres, and programmes empowering women to pursue a career in marine engineering.  To put this into perspective, from the DfT grant funding received in 2022/23, £1,271,864 was awarded for projects in support of people – mental health & wellbeing, and £648,994 for skills & diversity programmes.  Around 15 UK charities and organisations were funded, with some receiving more than one grant.  A total of £1,920,858 was awarded in support of 34 projects around the UK in total.
In addition to the Board's own grant funding programme, our impact in support of serving and retired seafarers and fishermen goes from strength-to-strength.  It has also been encouraging to see the achievements of the Board and our constituent members being increasingly promoted in online and print media, news programmes and radio. This has further raised the profile of our combined successes.
Having worked at sea for almost 10 years on superyachts, and my husband working away at sea for six months of the year, I know that a career at sea presents incredible opportunities for personal development, lifelong friendships, worldwide travel and, of course, improved resilience.  I also have some understanding of the challenges of a maritime career, such as finding the time to take care of your own health & wellbeing, limited WiFi, missed milestone occasions with friends and family as well as the challenges of making the transition from sea to shore.
In my role at MNWB, I am fortunate to work as part of a strong team.  We are proud to champion the achievements of the sector and are focused on improving the welfare provision of all seafarers and those visiting UK ports.  Working together with our constituent members, I really believe that we can continue to make a positive difference in the sector.